Klangmeister
Presentation
Live music coding, like other forms of programming, can require a lot of setup to get started. That's a shame – many newcomers lose their enthusiasm as they battle editor configuration and hardware quirks.
Klangmeister attacks this problem by hosting a live coding environment in the most ubiquitous programming environment in the world. Users are invited to design synthesisers and compose melodies with Clojurescript – without leaving the comfort of their browser.
In this talk, I'll explain what Klangmeister does, how it does it, and why.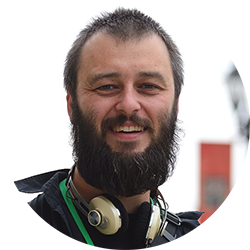 CHRIS FORD
Chris is a certified BABE (Bachelor of Arts, Bachelor of Engineering), and consequentially an idiophile and technophobe. He began to make music with code partly to compensate for his poor technique, and partly because air piano is unsatisfying. When he works, he works for ThoughtWorks, though that isn't all the time.