Scala in Equine Biomechanics
Presentation
Biomechanics analysis is dominated by dynamically-typed languages like Matlab, R and Python.
In this talk, I'll present several projects that were instead completed in Scala, and demonstrated clear benefits from using types and higher-level abstractions. This work included processing and visualizing motion capture data in Scala.
It has previously been published in refereed journals, but never previously described at a Scala conference. The work was completed with collaborators from Michigan State University, the Structure and Motion Laboratory at the Royal Veterinary College and the University of Melbourne.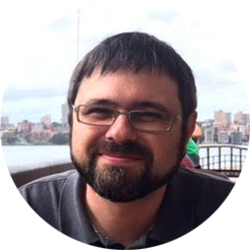 JONATHAN MERRIT
Jonathan Merritt is a software engineer in the finance sector in Australia, writing code in Haskell and Scala to support data scientists to develop large-scale predictive models.
Before joining the tech industry 2 years ago, he completed a PhD on equine biomechanics followed by 10 years on the post-doc treadmill; dissecting human cadavers, building photogrammetrically-guided robots, testing horseshoes that had an in-built inertial navigation system, and doing motion capture in horses.